Infobase

/

Students – Custom Profile Uses
Information on the student record needs to be viewed and used in many different places in the system. Staffroom allows you to create different customised student profiles for different purposes, including:
Student Profile – the main student profile view in Staffroom.
Student Portal Profile – the student profile view that is visible to students in the student portal (coming soon).
Parent Portal Profile – the student profile view that is visible to parents in the parent portal (coming soon).
Application Profile – the student profile form that should be completed by prospective students during the application process (coming soon).
Multiple Student Profiles can be created and assigned to user roles so that Staffroom users will see the Student Profile that is appropriate for their role. This allows for very fine control over what staff with different roles can view and edit. Only one InTouch Student Profile, InTouch Parent Profile and Application Profile can be selected and all users will see the selected profile.
In order to be able to create or edit custom profiles you must have the Core > Manage Custom Profiles permission. Usually only system administrators would have access to this feature.
To access the custom profile editing and configuration options you can navigate to Settings > Custom Profiles: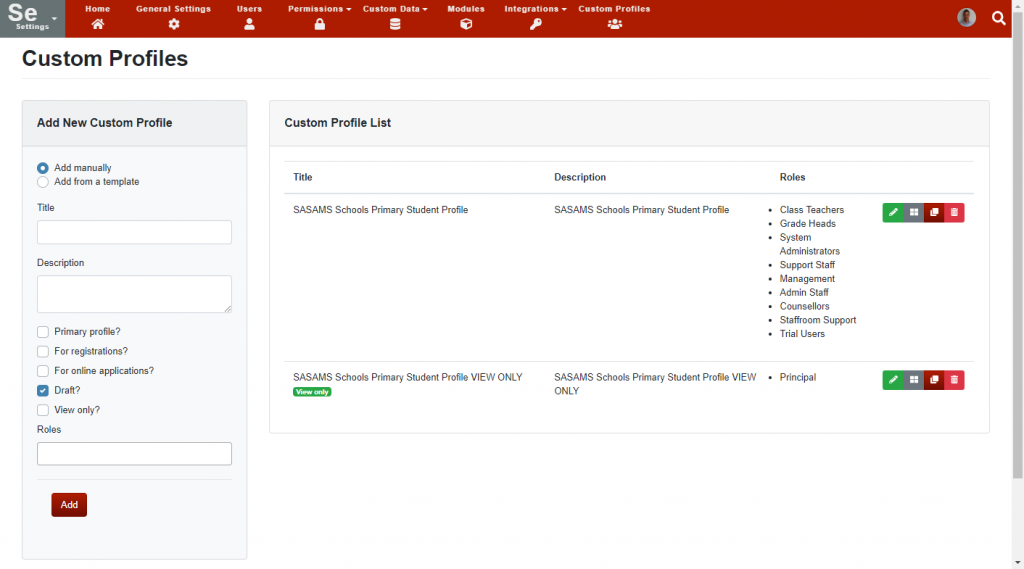 New blank custom profiles can be created or profiles can be created from templates using the Add New Custom Profile panel on the left of the screen. Copies of existing profiles can be also created using the clone button on the right hand side or each profile in the list.
It is possible to use the View Only option on a profile so that all fields in a profile are non-editable by users. Note that it is also possible to