Infobase

/

Behaviour – Issuing Merits & Demerits
It is possible for school staff to issue merits and demerits to students from the +merit and +demerit buttons found on the behaviour page on an individual student profile: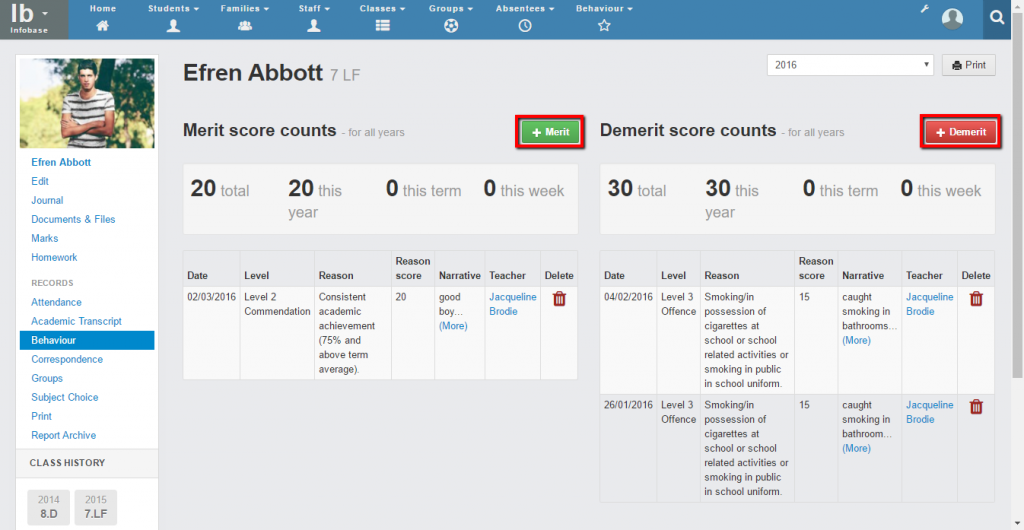 You can also issue merits and demerits using the menu options found under the Infobase > Behaviour > Issue Merits or Issue Demerits options in the module submenu:

When selecting either of these options you will be taken to the same screens that allow you to issue merits or demerits.  It is possible to select individual or multiple students to issue merits or demerits to.
The screen also allows school staff to:
Select the students who you wish to issue merits / demerits to.  Tip: you can use the * key as a wildcard to select multiple students e.g. type 7LF* to select all students in the 7LF class.
Select the category of merit or demerit.
Specify a reason from the list of available reasons in the merit / demerit category.
Specify the teacher who has issued the merit / demerit.
Specify the date the merit / demerit was issued.
Optionally multiply the number of times that the issue should be issued to the selected students.