Infobase

/

Admissions – Managing Future Students
Staffroom has features that help you manage the admission of prospective and future students.  Staffroom can help you:
Organise your future enrollments by year and using statuses such as wait listed, placed, enrolled etc.
Communicate with future students by email, and…
Enroll future students into their class for the upcoming year.
Manage class numbers via admissions overview reporting.
Organising Future Students
When creating or editing new student records in the Staffroom infobase you have the opportunity to organise the records by future year and status.  The fields that you use for this are found in the admissions section of the student profile: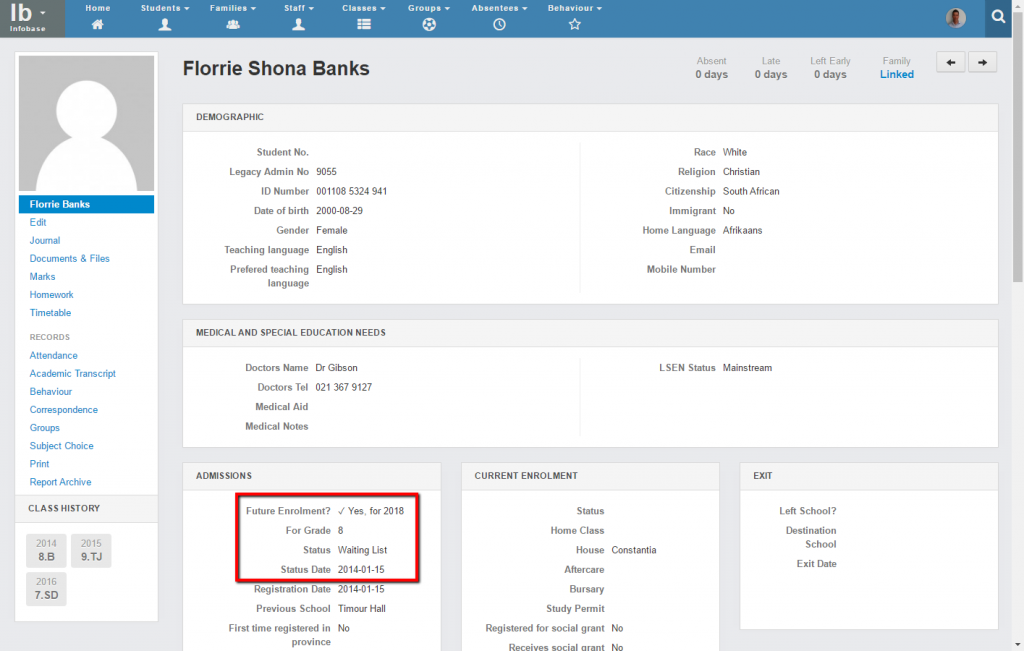 The important fields are:
Future enrollment – you should set this to "yes" for all future enrollments.
Future year – the future year that the student is likely to be enrolled at your school
Status – the enrollment status of the student's application which can be:

Interested – interested in a place at your school
Registered – an application has been registered
Waiting List – awaiting a place in the school
Placed – accepted for a place in a future year
Enrolled – enrolled in school (current students)

Status Date – indicates the date that the status was set
Communicate with Future Students via Email and SMS
It is possible to send emails and/or SMSes to parents or students of future grades.  The InTouch module will automatically provide links for any grade and year that has future enrollments in it.  These groups will be visible in the batch groups section of the SMS and Email compose screens: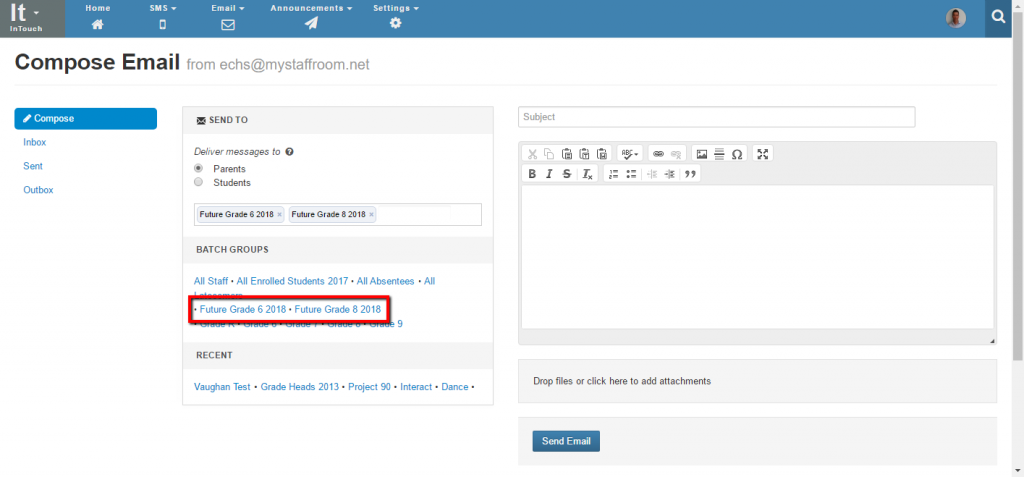 Enroll Future Students into Upcoming Classes
There are "list" features for student, family and staff records that provide useful tools for managing those records in Staffroom.  One of the lists available for student records can help you see and manage your future enrollments.
See the Future Enrollments list by navigating to the Infobase > Students > Lists page:

This list will show all students marked as Future Students (see above).
The list can be sorted by name, grade, year, date of registration and status.
Variations of this list can be printed or extracted from the Lists button in the top right of the screen.
Students in the list can be marked as enrolled and added to the desired class for the upcoming year directly from this page.
NB: When you mark a student as enrolled using this page the status of the student will be changed to enrolled and the status date will be set to today's date.
Managing Enrollment Numbers
You can use the Admissions Overview page to view the number of students with different enrollment statuses in any given month.  You can access this page via Infobase > Students > Admissions:

Students are displayed on the Admissions Overview page according to their enrollment status and the status date that is set on their student profile.
Note that we are in the process of developing an alternative admissions overview page that displays statuses by year rather than by month.  More information about this will be circulated when this feature is released.