Assess

/

Capture – Assessment Comments
It is possible to capture comments into the Staffroom assessment module for use in term reports and schedules. Many schools use comments on their term reports to provide feedback to parents about a student's progress during a term.
There are two places you can find comment fields in staffroom:
On the marks pages in the student's profile
In the comments page of the markbook
NB: Usually comments are placed in the global markbook, but they are sometimes also found in subject markbooks if they are subject specific.
Comments in the Student's Profile
For quick easy access to the comments for a single student you can click on the name of the student in the Assess Home screen:

Alternatively you can click on the name of the student in the markbook: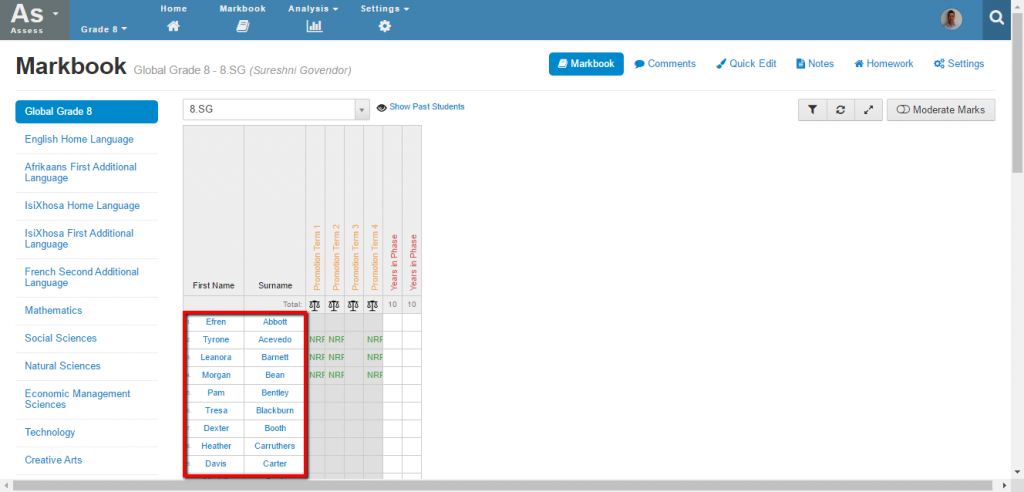 Clicking in either of these places will take you to the student's marks page in the Infobase where you will be able to see a summary of their year's assessment along with all of the comment fields for that student: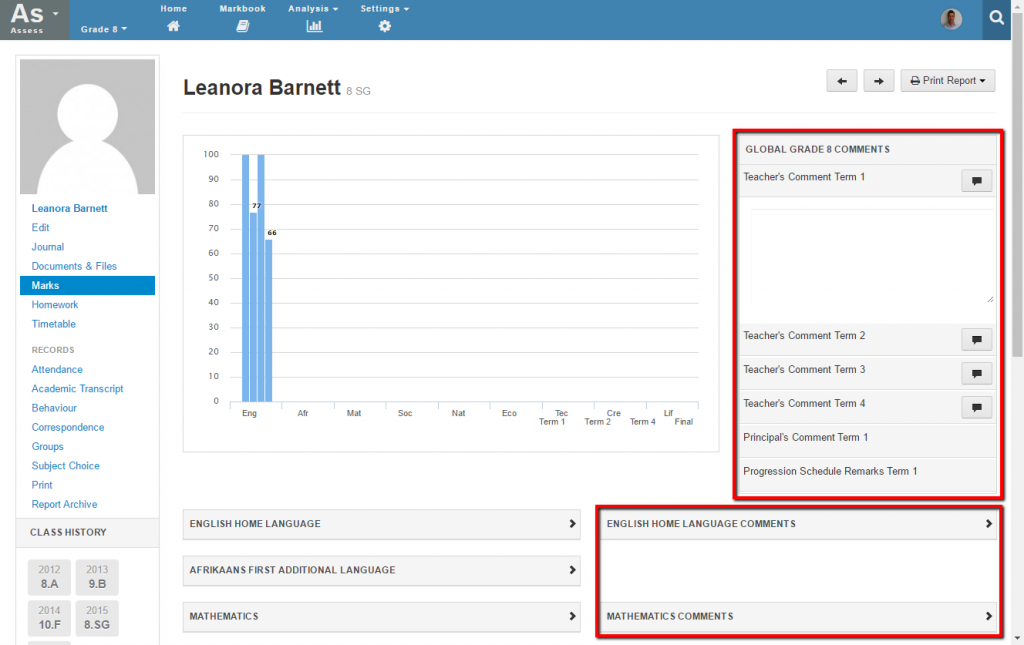 All of the comment blocks are displayed on the left hand side of the screen, but please note the following:
You will need to click on a comment block to expand the block so you can enter a comment.
If a speech bubble button is displayed beside the comment field you can click this to access comment templates used by your school.
Comments may have been hidden by your system administrator.  Hidden comment fields will not be visible on the students marks page.
Comments may have been locked by your system administrator. Locked comment fields will be greyed out and you won't be able to enter or edit comments into those fields.
Comments are saved as you exit each field, but look out for the green saved message which confirms that a comment has been saved
Markbook Comments Page
It is also possible to access comments in a list format where you can see all of the comment fields for all of the students in an assessment group in one place.  The markbook comments page is accessed from within the markbook via Assess > Markbook, selecting your subject and then using the comments button at the top left of the screen:

Once you have selected this you will see the markbook comments page which allows viewing and editing of comments for a whole assessment group at once.  Only one column of comments is displayed at a time and you can switch between comment blocks by selecting the comment tabs at the top of the screen: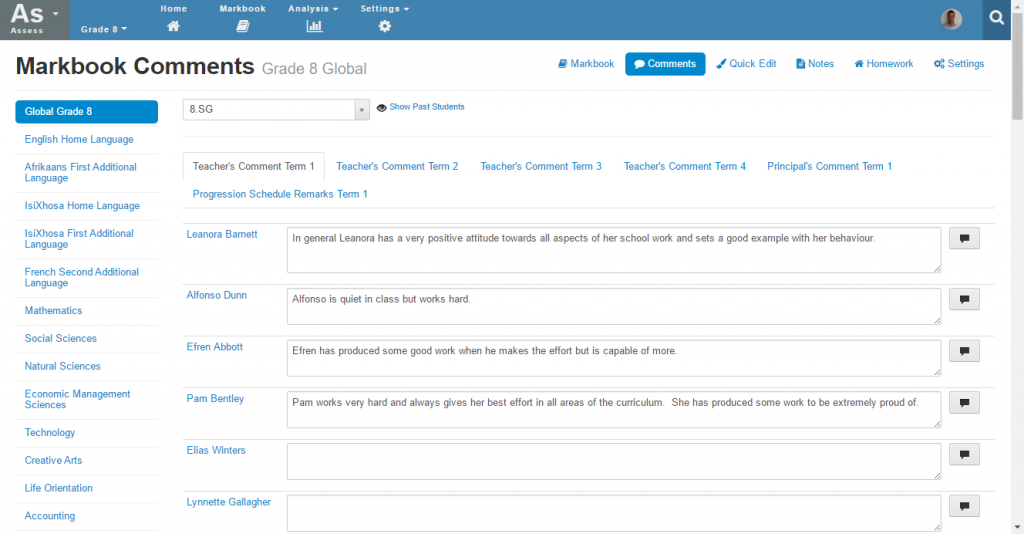 Please note the following:
If a speech bubble button is displayed beside the comment field you can click this to access comment templates used by your school.
Comments may have been hidden by your system administrator.  Hidden comment fields will not be visible on the students marks page.
Comments may have been locked by your system administrator. Locked comment fields will be greyed out and you won't be able to enter or edit comments into those fields.
Comments are saved as you exit each field, but look out for the green saved message which confirms that a comment has been saved