Assess

/

Setup – Assessment Health Checks
Staffroom has a number of health checks that you can use to help find and fix problems in your assessment setup.  These health checks also include tools to help you make sure that your staff have completed marks capture so that you can be sure you are ready to print and report at the end of term.
The assessment health checks are accessed via Assess > Analysis > Health Checks:

The health checks include the following:
Marks Missing – helps you identify if school staff not captured marks into Staffroom markbooks.
Mark Inconsistencies – helps you identify problems with marks such as when students have marks for subjects but they have no assessment group.
Result Tagging – helps you check for incorrect tagging of result sets (this can impact term reports and schedules).
Result Set Relations – helps you identify problems in markbook calculations such as tasks that are not included in any calculations.
CAPS Compliance – compares markbooks created using our CAPS templates to the latest version of the template and shows differences.
Release Dates – helps you check that all schedules and reports have a release date set.
To run a health check you should:
Navigate to the grade you wish to check and then select Analysis > Health Checks
Select the health check you would like to use from the panel on the left.
Select the term to run the check for (this is only necessary for the missing marks check).
Select the green "Run Test" button at the top right of the screen to run the test.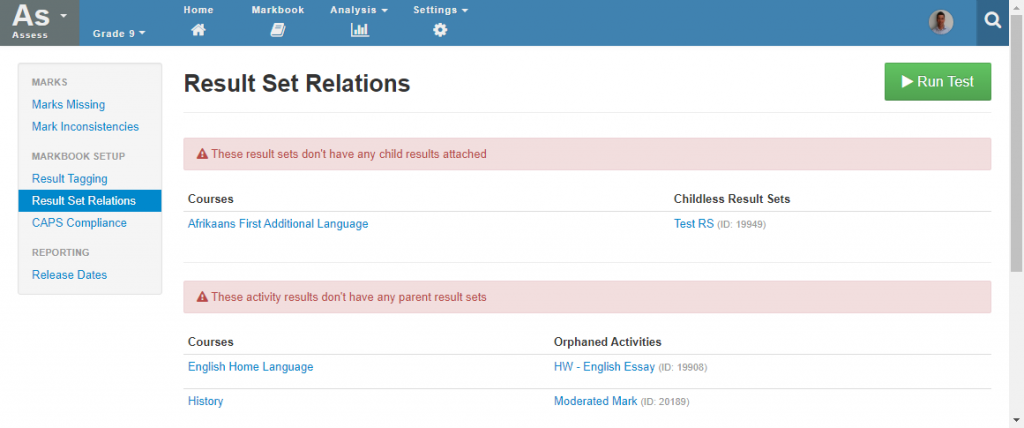 The results of the check will be displayed on the page and you can take any corrective actions that are necessary. Not all items reported by these health checks may be problems for your school, but if you are unsure about any of the issues that are displayed for a health check please contact our support team for assistance.
Missing Marks
Not sure who has completed capturing their marks at the end of term?  One of the health checks you will find on this page is the Missing Marks health check.  This check allows you to select the category (grade) and term you are interested in and see which teachers have yet to complete their marks capture for that term.  The results are arranged by teacher, subject and then student.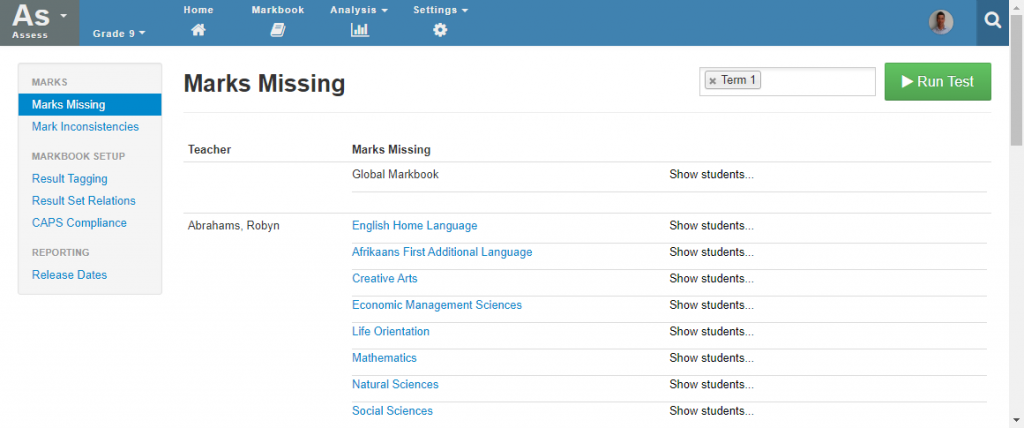 Note that this check indicates all marks and comments that have not been entered for the term.
CAPS Compliance
If you created your markbooks using our CAPS templates then you can use the CAPS Compliance health check to find changes.  This check compares your markbooks to the latest versions of our templates and shows you all of the differences between them.  You can use this check to find out if your term and final mark calculations (weightings) are correct.
NB: we base our templates on the WCED recording sheets and we update them as soon as we are made aware of any changes.  If you think that our templates are not up to date or contain an error please let us know as we'll want to fix it.
The CAPS compliance health check allows for selection of which information should be compared using checkboxes at the top left of the screen.  This allows for ignoring less important changes you may have made (such as changed to task totals or task descriptions).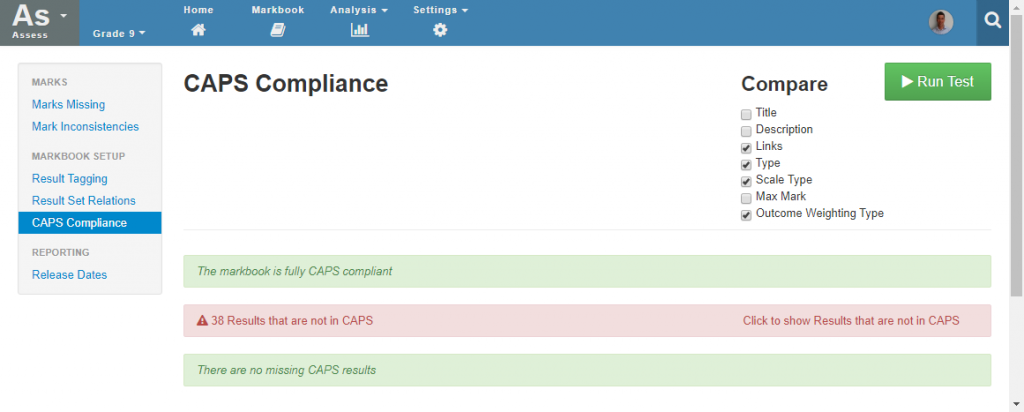 There are three sections in the results:
Changes to task and result columns that were created from a CAPS template e.g. changes to weightings
New tasks or results that have been added to the markbook that are not in the CAPS template
Tasks or results that have been removed from the markbook completely that are in the CAPS template
When differences are found the relevant section above will be highlighted in red.  If you select the red section it will expand to show you the details of the differences that the check has found: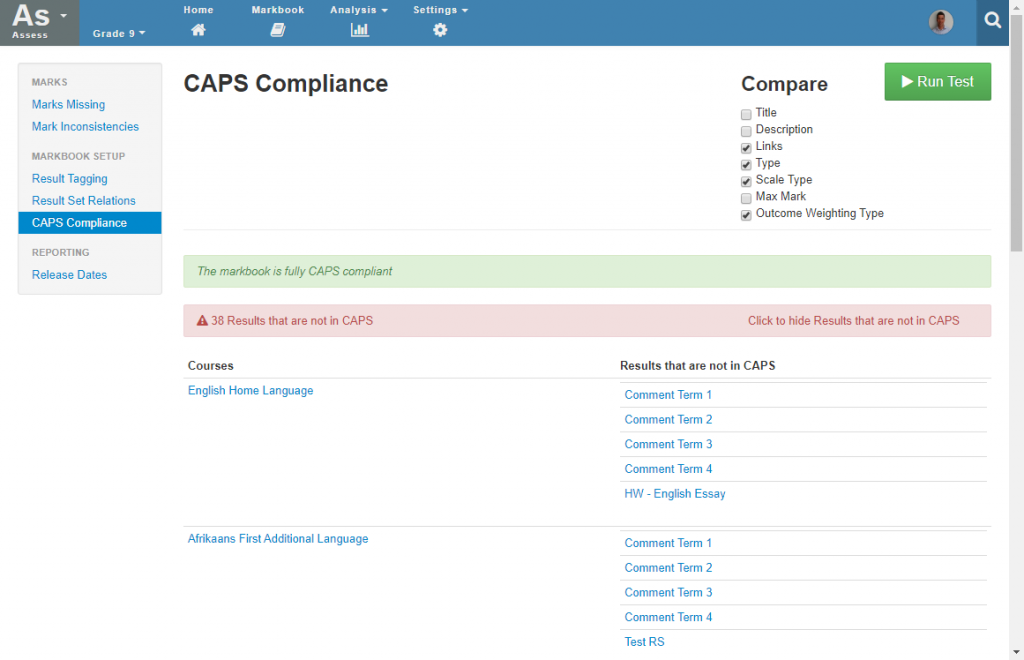 Can't see the screens we're talking about above?  Perhaps you have not been granted permission to access these in your school's Staffroom site.  Speak to you school's system administrator if you think you should have access to these screens.