InTouch

/

Sending Emails from InTouch
Staffroom allows sending of richly formatted emails with attachments to staff, parents or students.  It is easy to send email to your classes, grades and groups since Staffroom knows which staff, parents and students are in each.
Note that there are two places that you can send emails from within Staffroom:
 InTouch – email can be sent to anyone from the InTouch module compose screen
 Assess Home – email can be sent to any assessment groups that the staff member has access to.
This page describes how to send from the InTouch module (1 above).
Composing Email in InTouch
The InTouch compose screen can be accessed via InTouch > Email > Compose: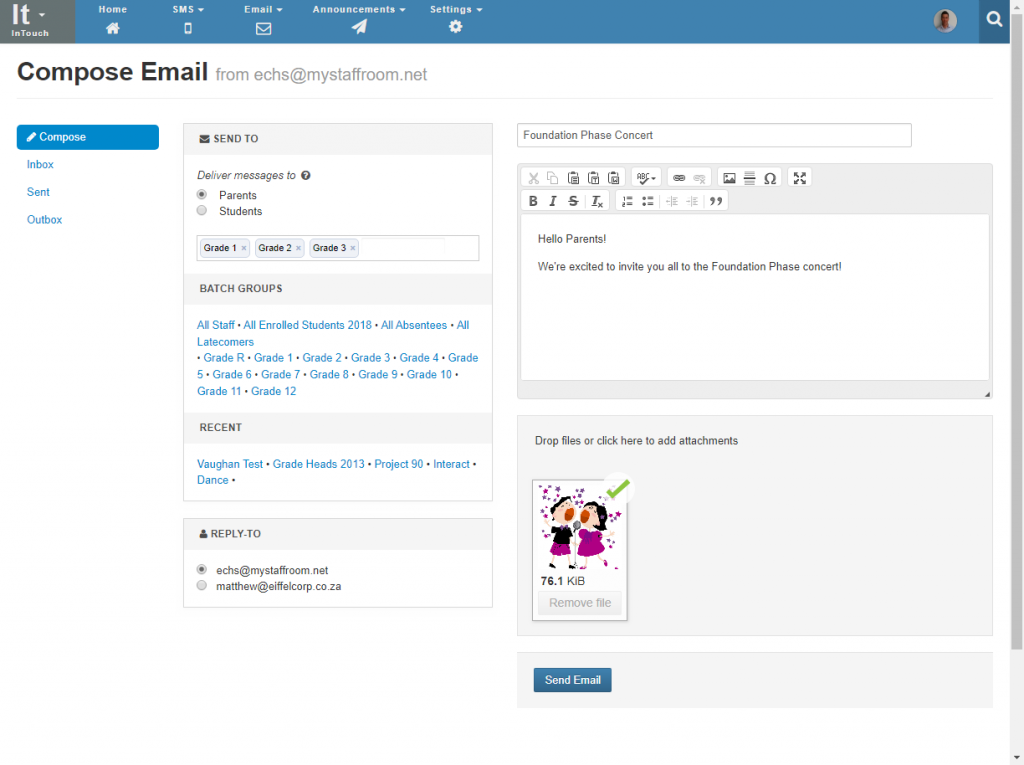 The compose screen allows you to create emails as you would in many other email programs.  The following options are available when composing emails:
Send to parents  / students – this selects whether the mail will be sent to parents or students in the selected groups.
Send To – allows the selection of classes, grades, groups as well as individuals and any combination of these.
Batch Groups – allow selection of useful groups such as latecomers and absentees for the day.
Recent – shows recently used groups.
Reply To – allows selection of the email address that recipients will reply to.  Note that this field will only be displayed if the current user has an email address in their profile.
Subject – subject of the email.
Body – body of the email including formatted text, images etc.
Attachments – files and documents to send with the email.
Once you have selected recipients, entered your subject and body and chosen other desired options you can click send to send the email.
Some Points to Note
Once you click send your email will be queued for sending.  It may take a few minutes for the mail to be sent by our mail provider.  You can check on the status of outgoing email using the Outbox and Sent items pages.
Email sent from InTouch is sent from the mystaffroom.net email address in your settings page.  It is possible to send from another domain, however, you need to use your own mail provider for this.  Please contact support if you would like to discuss setting this up.
SMSes and Emails sent from the InTouch and Assess modules are also visible in the student profile under the correspondence tab.
For email attachments no single file can be greater than 10 Mb and the total size of all file attachments on a single email can't exceed 10 Mb. If you try to attach a file that exceeds 10 Mb it will be displayed with a red cross.  See this article for more information.
You should carefully consider which staff need access to the email compose screen as it allows sending of email to anyone without restriction.  The assess home screen email feature exists to allow teachers to communicate with only the classes they teach.
If you are sending email using the Staffroom mail provider then the cost of sending mail is included in your Staffroom subscription (no additional charges apply).  If you are using your own mail provider then they may charge you for sending mail.