The Staffroom InTouch module allows you to send emails with file attachments.
Adding Attachments to Email
Adding an attachment to an email is quick and easy…
Open the Intouch > Email > Compose screen
Compose the email you would like to send by adding recipients, a subject and the email body
Add the files you'd like to attach to the email, either: click the file attachments field to open a file browser, or drag and drop the file attachments into the file attachments field
Review your email to make sure it's right then click send – and that's it!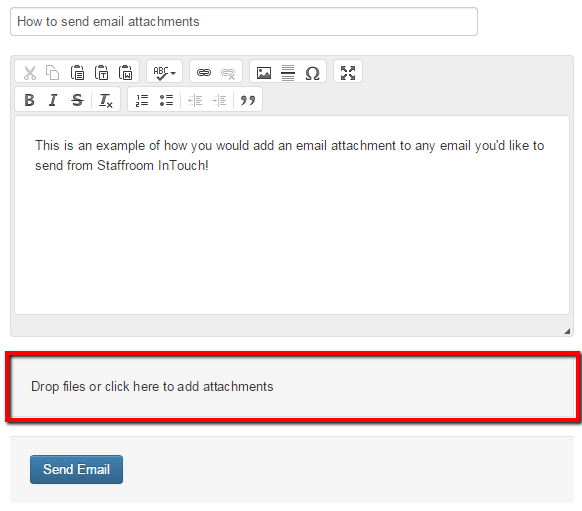 After sending an email you can view the email with the attachments in the following locations in Staffroom:
Student Record: In the student's record in the Infobase by navigating to the student and selecting the correspondence page.
Outbox: In the InTouch > Email > Outbox page (before the email has been sent by Staffroom)
Sent Items: In the InTouch > Email > Sent Items page (after the email has been sent by Staffroom)
Attachment Size Limits
There are limits to the size of file you can attach to an email: no single file can be greater than 10 Mb and the total size of all file attachments on a single email can't exceed 10 Mb. If you try to attach a file that exceeds 10 Mb it will be displayed with a red cross: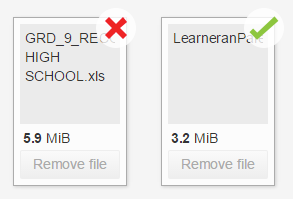 Emails From Assessment Groups
NB: Teachers can also send emails with attachments to the classes (Assessment Groups) that you are assigned to in the assessment module.  Teachers can send emails from the Assess > Home screen clicking the InTouch bar on the right hand side of this screen:

Can't see the menu options and screens we're talking about above? 
Staffroom features are controlled by permissions so if you can't see the menu options and screens we are talking about you may need to talk to your Staffroom Administrator.  The permissions to enable these features are found under:
Settings > Roles & Permissions > InTouch
Settings > Roles & Permissions > Assessment > Send Emails to Groups
Settings > Roles & Permissions > Assessment > Send SMSes to Groups