Insight

/

SA-SAMS Exports from Staffroom
Staffroom has created an SA-SAMS format export facility that can be used for compliance reporting to provincial government departments in South Africa.
Please note that in some provinces the provincial department does not communicate or collaborate with third party vendors like Staffroom.  This makes our job of providing tools that help schools comply very difficult. In the case of SA-SAMS the provincial departments use it as a vehicle for compliance reporting but do not publish any specifications or guidance to assist third parties…so we work everything out for ourselves.
While we make every effort to ensure that the data in the Staffroom SA-SAMS export is correct and complete we may not find out about discrepancies straight away.  If you notice any issues when using this export facility or if you encounter any difficulty with department officials please let us know.  We will work to correct any reported issues as soon as we can.
One day we hope we will all work together in harmony to help schools like yours do what they are supposed to be doing…helping our kids grow (and not data entry).
Preparing for Export
SA-SAMS is strict about the data that schools must capture which means that before you can export from Staffroom you will need to capture additional data that SA-SAMS requires.  The additional data must be captured for staff, students, parents and family records as well as for your school.
Staffroom includes data validation tools that you can use to help you identify data that needs to be captured or corrected.  You can access the data validation tools via Insight > SA-SAMS and then selecting the Validate data button.  The data validation checks may take a few minutes to run, but once they are complete you will see a summary of what data needs attention: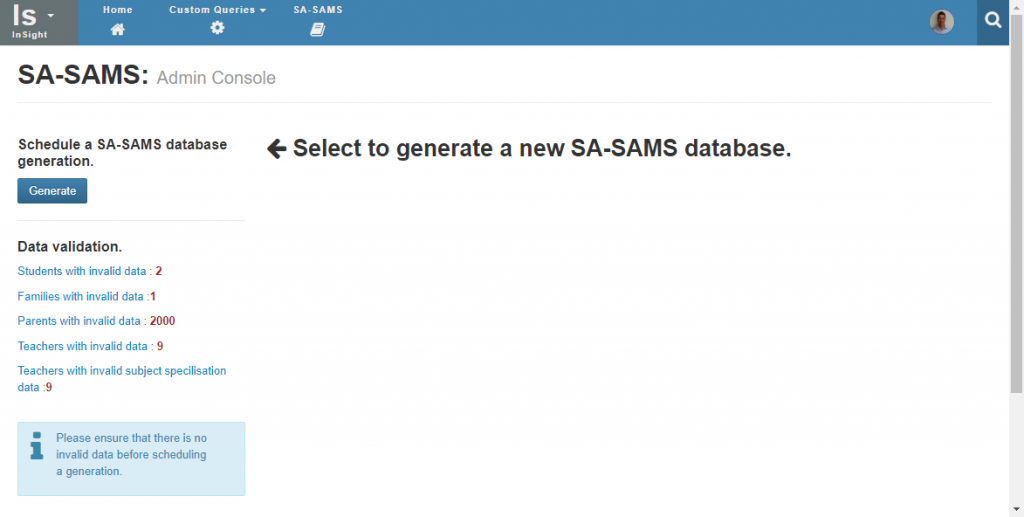 You can click each of the data validation links which will take you to the exception list for that type of data.  You can then use the exception list to click through each record and correct the data as necessary.  Once all data validation checks show zero records with invalid data then you can proceed to generate an SA-SAMS database for export.
Generating an Export
Once all invalid data has been corrected it will be possible to generate an SA-SAMS database from Staffroom.
To begin generation of an SA-SAMS database select the Generate button at the top left of the SA-SAMS page.  This will begin the generation process which may take a few minutes to complete.  Once complete an email will be sent to the user who started the generation and the SA-SAMS database will be available for download from the same page in Staffroom:

You can then download the SA-SAMS file by clicking on the blue Download button on the right hand side of the page.  Note that Staffroom will keep copies of the SA-SAMS databases that you generate so you will be able to access them at a later time from this page.
Using the Export
The file that is generated by Staffroom is a complete SA-SAMS database of the version specified.  You will be able to copy this file into your SA-SAMS installation and open it as follows:
Download the file from Staffroom and unzip it.
Copy the .mdb file to your SA-SAMS data folder (this is usually something like C:\Users\<username>\AppData\Local\VirtualStore\Program Files (x86)\EdusolSAMS\Data but it may be different at your school.
Open SA-SAMS and use either the 'On this computer' or 'On the network' option to locate the database file you just copied.
When opening the database for the first time the default username is Administrator and the default password is admin.  We recommend you change this password in SA-SAMS when you open the database for the first time.
You can also validate the data is correct by navigating to 16. Security and Database Functions and then to 16.9 System Errors and Omissions.
Data Included
The data included in the export from Staffroom currently includes the following sections in SA-SAMS:
1. School Settings
1.1 – School Information – Contact numbers, EMIS number etc….
1.2 – Cycle info – Teaching hours in FET and GET bands
1.3 – Grades and Classes
1.5 – School subjects – based on grades of school (will select all available subjects if school has that grade)
2. Human Resources
2.1 – Educators info
2.2 – Educators subject specialisation
2.3 – Non-teaching staff info
3 Learner and Parent Info
3.1.1 – Learner information and family relationships
3.1.4 – Learner grades
3.1.5 – Learner classes
3.1.11 – Parent information
3.3 – Learner attendance
12. Curriculum Related Data
12.1.15 – Learner subjects – based on the assessment groups that students belong to.
NB: No assessment mark data is exported from Staffroom to SA-SAMS at this time.